BEFORE YOU GET STARTED…
Firstly what type of gate are you looking for? Driveway and garden gates are the most popular but there is a vast range of gates available for anything from a small entrance way and field gates to large scale industrial security fencing. The main materials gates are made from are metal and wood.
Other questions to consider:
What is the purpose of your gate?
Where is it going?
Do you require automation?
These are a few questions you need to ask yourself before you decide on a design.
You also need to make sure you have the correct dimensions and know the size of the gate you require. See step 2 below to find out how to measure correctly.
Protecting your gate is also a very important step to ensure your gate can withstand not only the elements, but also continual use and stand the test of time.
The final appearance of your gate then needs to be considered i.e. decorative coating / colour.

STEP 1: THE FUNCTION OF YOUR GATE
Most home security gates are installed either to block a doorway leading into a building, block a driveway or small passage. Depending on what type of gate you are looking for and where you wish to install it, different specifications are available to achieve desired results.
Garden gates are considered as an attractive landscaping element as well as a functional device. There are many things to consider before picking the right gate for your garden. Garden gate design can range from the simple to overtly elaborate. They serve several functions such as being a transition element between outdoor areas, lawn decoration or for the safety of your children. You also need to consider if you will require a latch or lock as a closing mechanism for safety. Typical garden gate widths are 3 to 4 feet.
When purchasing a driveway gate, keep in mind the overall purpose of the gate which should enhance the intended security of the property and be easily accessible by the owners. It is better to have an idea of where and why you want to install it. A driveway gate should complement the fence, wall or pillars to which it will be attached. The material chosen for your gate should function to either prevent entry or exit as well as the way in which it needs to open. Driveway gates may open manually or be automatic. Automatic gates may be triggered electronically from a central building, through the use of an electronic gate code or via wireless signal used in a remote device. Electronic gates provide a higher level of security whereas manual gates which are opened and closed by hand are suited to properties where animals and children are not resident or able to unlock them. Driveway gates are traditionally between 5 and 6 feet in height, varying in width depending on the size of the entrance requirements.

Go through your decision journey by clicking on the right arrow
STEP 2: HOW TO MEASURE
Before you order your gates it is important that you have a good idea of your measurements. Most gate manufacturers will need to know your gap size rather than the size of the gate you need in order to ensure it will fit properly. They will also consider space for posts and fittings if required, plus ground clearance. Always think about your gate as if you were viewing it from the roadside.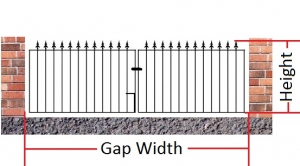 Hanging on Brickwork and / or Walls
Step 1 – measure the gap that you wish to fill (top and bottom gap measurements).
Step 2 – decide on which side the latch needs to be fitted as viewed from the roadside or outside looking in.
Step 3 – the standard allowance for clearance is 2" (5cm) under the gate or railing.
If you plan to hang your metal gates or railing on posts you need to allow extra space for them. Each manufacturer varies so it is best to simply measure the gap you want to fill and get a rough idea of the height from the ground to the top of your existing posts or wall.
Hanging from posts
If you already have steel posts, brick pillars or walls, simply take the measurements between them, top and bottom.
Please note: This information is a guideline only, all manufacturers vary and may have different size listings.
STEP 3: MATERIAL SELECTION
Considering Style and Material
Once the function is decided, you are now ready to consider the style of the gate and ultimately the material in which it is made from. Do you want your garden gate to blend in with the surroundings such as your current garden and fencing scheme or reflect the exterior of your home, or do you want it to stand out and become a focal point. The two main types of materials used to make gates are metal and wood. There are many modern garden gate designs available, ranging from mass produced through to the bespoke. Ornate and decorative gates are generally made of metal which can add a classic look to any garden and go well with stone or brick walls. Your gate design should complement your home or garden, it may be helpful to narrow your options by mirroring a general shape that exists in the background such as an archway.
Wooden gates are natural in appearance and have a lower proportion of market share. They are often seen as being very traditional, synonymous with rural areas.
A large proportion of the domestic market for gates are made from metal, the vast majority being made from steel and the remainder from wrought iron. Today wrought Iron tends to be used in very specific situations, for example the restoration of historic buildings.
Steel Gates
Why choose a steel gate?
Steel has become the material of choice because of a number of basic advantages:
– Steel offers the ability to create more complex designs.
– Steel is a more economic material to use.
– Steel is naturally strong (this aids in its use for complex designs).
However steel does need to be protected in an external environment to prevent corrosion.
Wooden Gates
There are a variety of different types of wood which can be used for gates. Hardwood or softwood are suitable solutions for your wooden gates. Hardwood such as teak, Iroko and Oak are used though gates can also be made from softwood such as Scandinavian Redwood or Cedar.
Why choose a wooden gate?
-Wooden gates can be unique. No two are the same due to the natural defects in wood.
-Close-boarded wooden gates can provide more privacy – although tend to be heavy and may be difficult to open regularly. If this is the case, it may be worth considering installing electric gates.
-Hardwood gates are strong and durable. However wooden gates may require more periodic maintenance than their steel counterparts.
Wooden gates may also be prone to warping due to the nature of the material.

STEP 4: PROTECTING YOUR GATE
Steel needs protecting in order to retain its properties, the best way is to hot dip galvanize which provides a protective base coat that can last more than 50 years.
Click here to see the benefits of galvanizing.
Many gate manufacturers will give you the option to have your gate painted or powder coated directly onto the steel as a good value solution. However be aware of incurring repeat costs for the additional maintenance required over the lifetime of your gate.
Wooden Gates
Wooden products can be stained or preserved to help waterproof the wood and prevent rot. However it must be maintained on an annual basis.
Varnishes and stains suitable for your wooden gates, for example Cuprinol are available at most hardware stores.

STEP 5: DECORATIVE
Steel Gates
For steel gates there is the option of painting or powder coating to obtain a variety of decorative finishes.
Hot Dip Galvanizing by itself is a long lasting and cost effective means of protecting steel from corrosion. Initially your galvanized gate will have a shiny silver finish which will fade slightly once exposed to the elements over time. If you require a specific colour, you can easily have your galvanized gate painted or powder coated.
Paint coatings may be applied soon after galvanizing. As with all protective treatments of steelwork, it is of great importance that preparation of the galvanized surface is correctly carried out. Paint, for example such as Hammerite can be used for decorative purposes to suit your own taste.
Powder coating is another method of adding decoration by baking coloured powder onto your galvanized gate. Like galvanizing, it is carried out under carefully controlled conditions in a factory.
Wooden Gates
Coloured stain or specific wood paints are used to colour wood, or varnishes to give a more natural appearance.